Yesterday, Kenya's comedy icon the late actor Charles Bukeko, popularly known as Papa Shirandula-who kicked the bucket at Karen Hospital- was laid to rest in his Nanderema upcountry home, Busia County.
Beatrice Andega, the surviving widow of the late Papa Shirandula had, at the celebrated comedian's funeral called out Karen Hospital for medical negligence that might have led to his death.
"They didn't consider his condition an emergency and he died while we were at the waiting bay. When he went to the hospital, he requested for three tests of malaria, pneumonia, and Covid-19 but the hospital concentrated only on COVID and ignored the rest," Ms Andega said.
While speculations are nigh that the actor succumbed to the novel coronavirus, his father Cosmas Bukeko has denied the claims
"For now l cannot say anything about his illness until we sit with the hospital. I'll travel to Nairobi and together with his wife, we shall engage a lawyer to get the proper information from the hospital," he said.
However, Karen Hospital CEO Juliet Nyaga has responded to Papa Shirandula's widow claims that the facility's negligence caused her husband's death.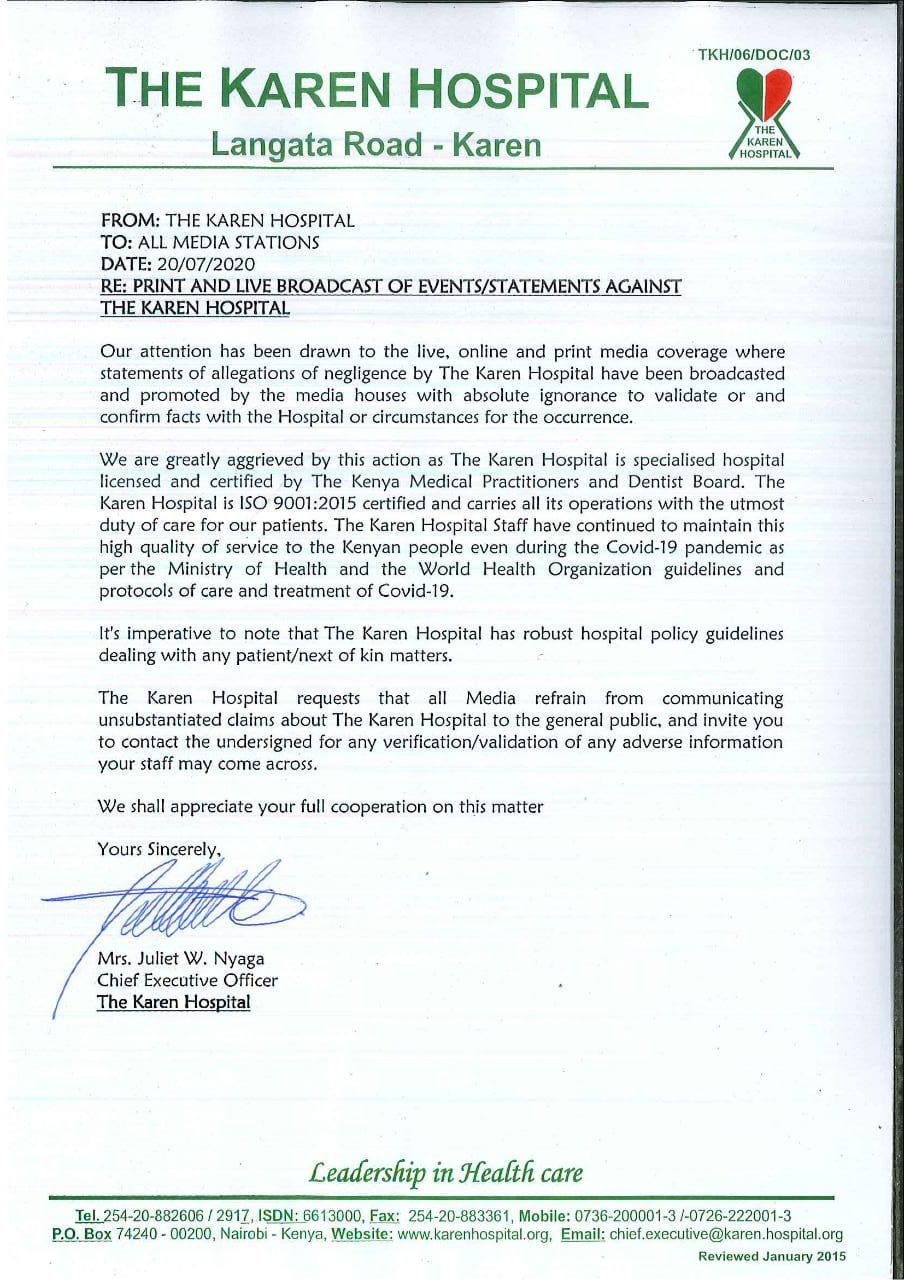 Here is how Kenyans on Twitter reacted to Karen Hospital's response
An empathic CEO would have began by condoling with the family of Charles Bukeko (RIP), now what is this? The institution only cares about its brand? Very unfortunate! https://t.co/DnSZeYTlZR

— Jack Letangule (@JLetangule) July 20, 2020
The Karen Hospital.. The Karen Hospital.. The Karen Hospital.. The Karen Hospital.. The Karen Hospital.. The Karen Hospital..

Public relations as course should be taken seriously. There are unemployed graduates who can draft a better official communique having done theses.

— Dexter254 EPL Champions (@Dexter254C) July 20, 2020
When i was reducing foolishness in school, one great Teacher Mr. Amunga once said, the media is a mirror for the society. They show us what we are. A mirror won't ask you wether you think sukuma wiki is stuck between your teeth. It will just show you!So Papa was not ISO? Surely!

— The Agronomist (@ClementSnr) July 21, 2020
Just like did Kenyatta National Hospital in the case of the late Prof. Ken Walibora amongst many other Kenyans.

Some hosptital administrators got the weirdest attitude and poor training.
May they Rest in Peace.

— OBONYO ezekiel (Baba Twins) (@zecky_obonyo) July 20, 2020
Primitivity of the highest order. No African whether learned or illiterate admits liability.

Very sad. They imply the observation by the customer aired LIVE on TV was biased?

Very diabolical indeed.

— Rashid Bett (@rashid_bett) July 20, 2020
In my limited knowledge of the English language, the Karen Hospital have neither confirmed nor denied anything. Just talked about licencing, standards, policies etc and required that they be contacted for validating any adverse reports that one and any media house may come across

— Chris (@Chris_D_Odero) July 20, 2020
---
Would you like to get published on this Popular Blog? You can now email Cyprian Nyakundi any breaking news, Exposes, story ideas, human interest articles or interesting videos on:
[email protected]
Videos and pictures can be sent to
+254 710 280 973
on
WhatsApp
, Signal and
Telegram.
---
Comments
comments