LeBron James stands as one of the most prominent names in the basketball world, renowned for his legendary dominance in the NBA.
With an impressive record of 17 NBA All-Star appearances, he has consistently displayed exceptional skills.
Alongside this, his career averages of 27 points, 7.4 rebounds, and 7.4 assists speak to his remarkable abilities.
Yet, when it comes to defining greatness in the NBA, the spotlight often shifts to championship rings. The question that arises: How many rings does LeBron have?
LeBron James Rings
LeBron James, widely celebrated as one of the greatest basketball players in history, has solidified his legacy in NBA annals through a remarkable collection of championship rings.
Throughout his illustrious career, LeBron has secured four NBA championships, a testament to his extraordinary talent, leadership, and ability to shine in critical moments.
As he ponders retirement each off-season in this stage of his career, the question emerges: Is he finished pursuing championships?
Who Is LeBron James?
LeBron Raymone James Sr. born on December 30, 1984, and often referred to as "Bron,".
He currently plays as a professional basketball player for the Los Angeles Lakers in the National Basketball Association (NBA).
His moniker "King James" speaks to his widespread recognition as one of the sport's all-time greats.
Basketball fans compare him to Michael Jordan in discussions about the greatest basketball player ever.
James stands as the leading scorer in NBA history and occupies the fourth position in career assists.
He has won four NBA championships, two with Miami Heats, one with Los Angeles Lakers, and another one with Cleveland Cavaliers.
James has appeared in 10 NBA Finals, a remarkable achievement that encompasses eight consecutive Finals appearances from 2011 to 2018.
LeBron James Rings and Career Achievements
LeBron James has one of the most impressive resumes in NBA history, with a staggering list of career achievements. Here are some of his most notable accomplishments:
4x NBA champion (2012, 2013, 2016, 2020)
4x NBA Finals MVP (2012, 2013, 2016, 2020)
4x NBA MVP (2009, 2010, 2012, 2013)
19x NBA All-Star (2005–2023)
3x NBA All-Star Game MVP (2006, 2008, 2018)
13x All-NBA First Team (2006, 2008–2018, 2020)
3x All-NBA Second Team (2005, 2007, 2021)
3x All-NBA Third Team (2019, 2022, 2023)
5x NBA All-Defensive First Team (2009–2013)

NBA Rookie of the Year (2004)

NBA All-Rookie First Team (2004)

NBA scoring champion (2008)

NBA assists leader (2020)

NBA 75th Anniversary Team

AP Athlete of the Decade (2010s)
James' NBA Finals Appearances Compared to NBA Legends
LeBron's influence on the game transcends mere championship rings. He has consistently propelled his teams to contention for the title, leaving an enduring impact on every franchise he's joined.
While LeBron faced formidable opponents in the NBA Finals, there were occasions when he seemingly carried his teams to that grand stage.
His record of tying for third all-time in finals appearances is a topic of debate, with some hailing it as a significant achievement.
Others point to Michael Jordan's undefeated Finals record as evidence of his superiority in the debate over the greatest player ever.
Has Lebron James Played Football?
During his underclassman years, James took on the role of a wide receiver for St. Vincent–St. Mary's football team.
This caught the attention of several Division I programs, including Notre Dame. By his sophomore year's end, he earned the honor of being named to the first team all-state.
As a junior, he played a pivotal role in guiding the Fighting Irish to the state semifinals.
Unfortunately, his senior year saw him sidelined due to a wrist injury incurred during an AAU basketball game.
This led to speculations about the potential for James to have pursued a career in the National Football League (NFL).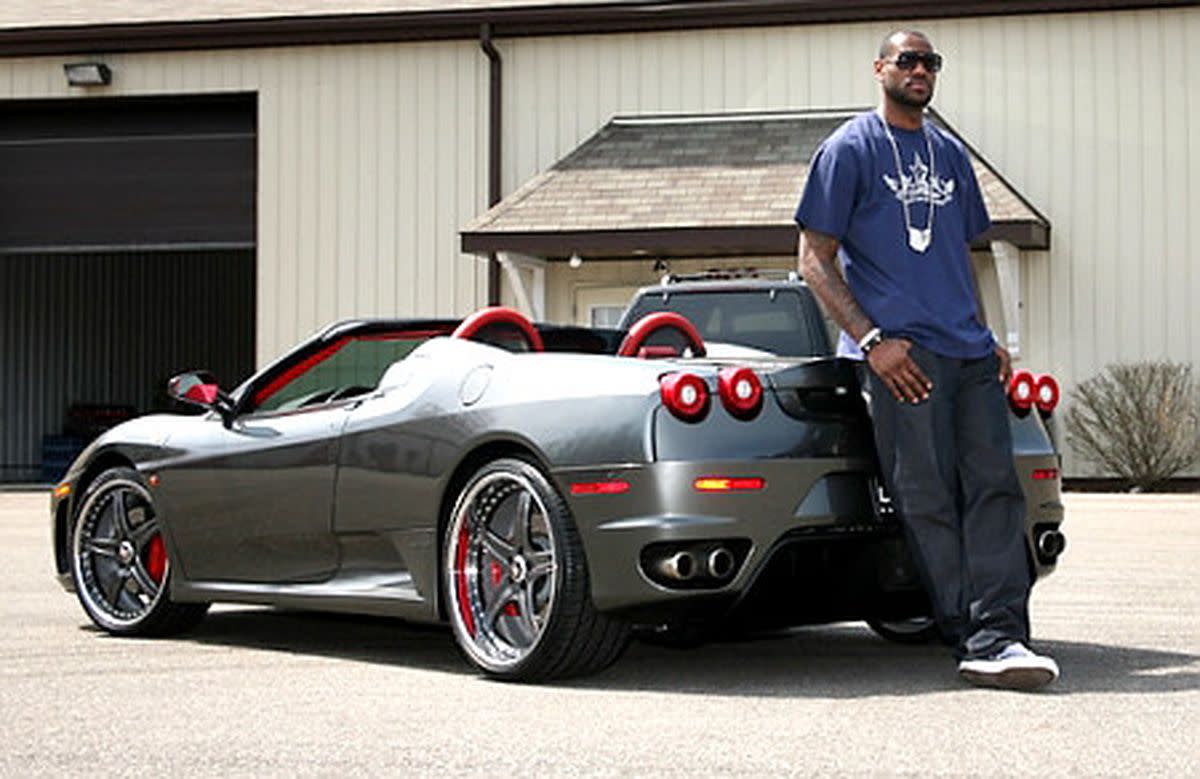 LeBron James Rings, Salary, Endorsements and Net Worth
LeBron James has one of the most successful careers in NBA history, both on and off the court.
Salary
In the 2023-2024 season, James holds the distinction of being the highest-paid player in the NBA, with a base salary of $42.8 million.
Additionally, he's eligible for a two-year contract extension valued at $99.02 million, set to commence during the 2025-2026 season.
LeBron James Rings
James boasts an impressive record of four NBA championships, achieved with three distinct teams: the Cleveland Cavaliers in 2012 and 2016, the Miami Heat in 2013, and the Los Angeles Lakers in 2020.
Remarkably, he stands alone in NBA history as the sole player to secure a championship with three different teams.
Endorsements and Net Worth
James ranks among the world's most marketable athletes, boasting endorsement partnerships with global giants like Nike, AT&T, and Pepsi.
Reports suggest he rakes in over $55 million annually from these deals.
Forbes has estimated James' net worth to be a staggering $1 billion, marking him as the first active NBA player to reach billionaire status.