City lawyer and politician Karen Nyamu has fired back at popular Kikuyu "Mugithi" singer Samidoh Muchoki moments after the married star issued a public apology over their sex affair.
Samidoh on Tuesday, March 2 had released a statement in which he acknowledged having been in a romantic relationship with the former Nairobi Woman Representative candidate.
He also admitted that he had sired a child with Nyamu – saying he continues to love and support his daughter both emotionally and materially.
He, however, dismissed speculation that he had left his wife to start a family with the former Nairobi CEC.
"I have put my family and myself in a bad situation. It is true I had a relationship with Miss Karen Nyamu… I have never left my wife of 11 years for another woman, " read part of Samidoh's post shared across social media platforms.
But before the dust even settled, Nyamu immediately issued a statement of her own, condemning the musician's apology to his wife and asking him to awaken to reality.
"Till when will you run away from reality? It was easier to declare the whole truth not half because you will be a slave of making apologies. You have done nothing wrong," the politician who also serves as a Director at the Nairobi Water and Sewerage Company said in a rejoinder.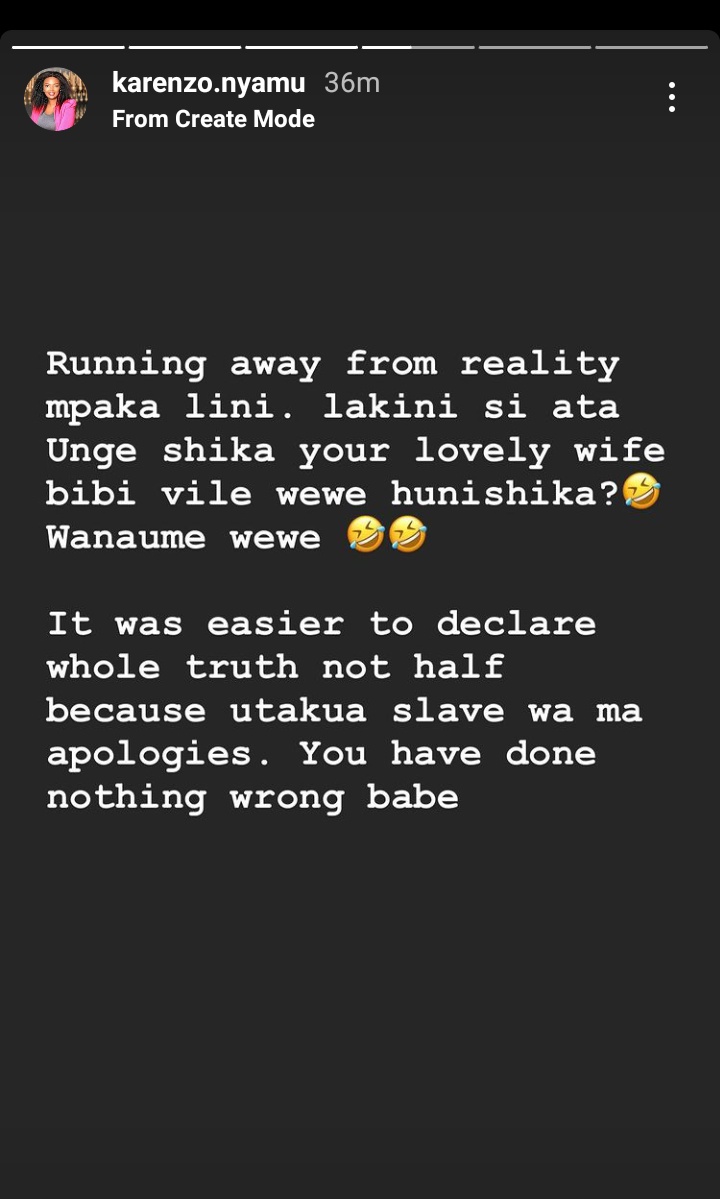 How it got here…
Karen and Samidoh's relationship drama has dominated social media for the past week or so.
During the weekend, the politician shared a video for the first time of Samidoh and his son with the caption, "A dad doesn't tell you that he loves you, he shows you #muchokis", confirming the vernacular singer as her baby daddy despite publicly denying it for months.
On the same day that she shared the video, Samidoh's wife, Edith 'Edday' Nderitu was reportedly involved in a road accident and described the horrible experience on her Instagram page as a close shave with death.
The drama then quickly took an ugly twist after the musician's fans started taking sides with personalized attacks against both Nyamu and Samidoh's wife.
In October 2020, the Mugithi star had denied having dated Nyamu, saying that she was one of his many die-hard fans.
"I have a wife with children, and I do not want another one with the current economy. I have not been dating her, she has just been my big fan for a long time," said Samidoh at the time.
Samidoh met his wife Edith when he was still in high school.
Sweet Revenge?
Years on, however, Samidoh had his heart painfully broken by the love of his life.
The woman he had loved and trusted cheated on him but the singer, speaking in a past interview, said he chose to look forward and forget the past.
He admitted that he always questioned his sanity after making that decision and could not get the strength to walk away from that relationship.
Samidoh in a 2018 interview admitted that his wife cheated on him and he took her back. Seems men don't forgive cheating. pic.twitter.com/Wedj70rT4U

— Raila Owe Dinga (@JoeIzMee) March 2, 2021
According to the celebrity who has been entangled in a web of controversy, he chose to build a home and forgive the woman who made him feel small and unappreciated.
The two got married and expected to live happily ever after.
Years later, people are now wondering whether the father of three decided to revenge on his cheating woman by siring a child with Karen Nyamu.
---
Would you like to get published on this Popular Blog? You can now email Cyprian Nyakundi any breaking news, Exposes, story ideas, human interest articles or interesting videos on:
[email protected]
Videos and pictures can be sent to
+254 710 280 973
on
WhatsApp
, Signal and
Telegram.
---
Comments
comments