Sergio Aguero, the Argentine football player, earned millions of dollars through his career with the Manchester City club and the Argentina national team, and brand endorsements.
He became the youngest player to play for the Independiente Club's first team. What is Aguero's net worth?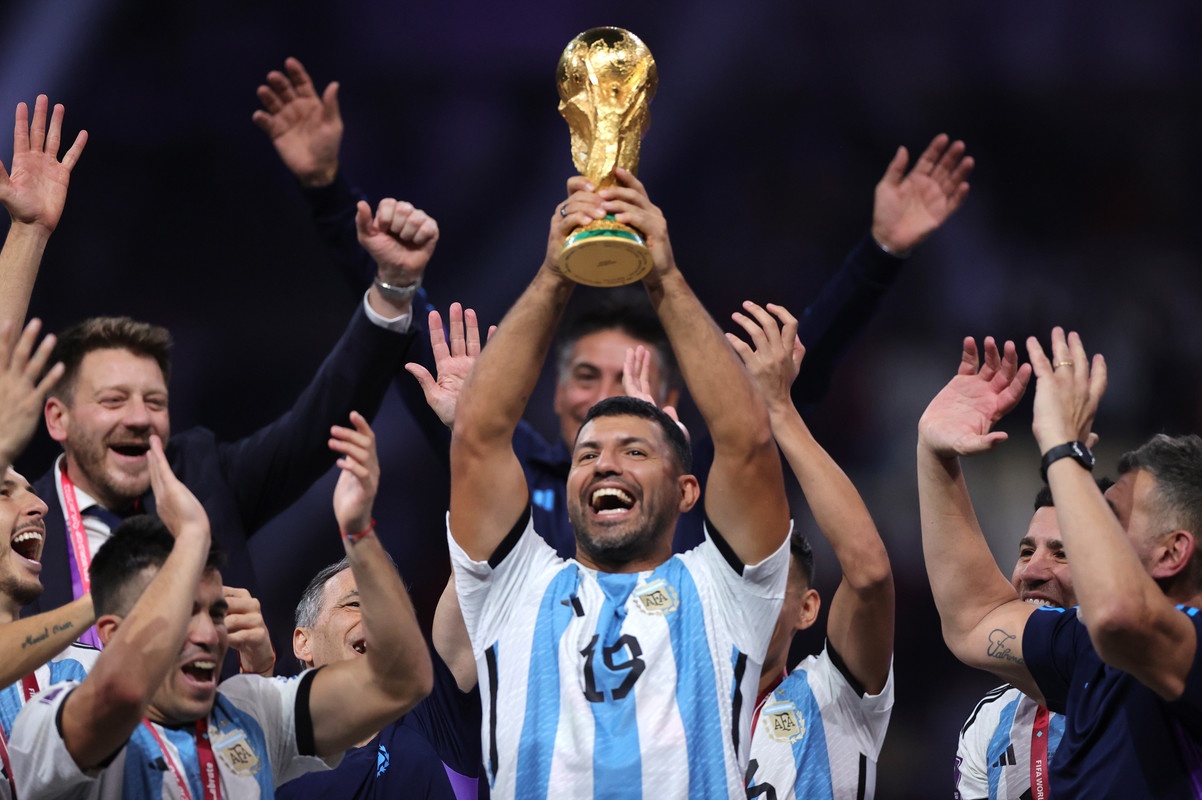 Biography
Sergio Leonel Agüero del Castillo, also known as Kun Agüero, was born on June 2, 1988. He is an Argentine former professional footballer who played as a striker.
Agüero is renowned as one of the best strikers of his generation and is considered one of the greatest players in the history of the Premier League.
He spent a decade with Manchester City, where he became the club's all-time top goalscorer and holds the record for most Premier League hat-tricks, with a total of 12.
Career
Sergio Aguero's professional career began with Independiente, where he scored numerous goals and caught the attention of top international teams.
He was soon signed by Atletico Madrid, one of the world's wealthiest soccer teams, where he rapidly rose to stardom.
In 2011, he played a pivotal role in Atletico Madrid's victory in the UEFA Europa League before joining Manchester City in 2012.
His success at Manchester City attracted interest from Real Madrid, who sought to transfer Aguero to bolster their squad alongside Cristiano Ronaldo. However, Aguero opted to remain in the United Kingdom.
In 2019, Aguero achieved a significant milestone by scoring his 150th Premier League goal, a feat previously accomplished only by Thierry Henry and Wayne Rooney.
Recognized as one of the greatest players of all time, Sergio Aguero draws inspiration from football legends such as Ronaldinho, Lionel Messi, and Diego Maradona.
Furthermore, Aguero has represented the Argentina national team in multiple FIFA World Cup tournaments and several Copa America tournaments throughout his career.
Sergio Aguero Net Worth
Argentine football player Sergio Aguero boasts a net worth of $80 million.
Born as Sergio Leonel Agüero del Castillo in Quilmes, Argentina, Aguero started his football journey early in life. He joined the youth division of the Independiente Club while still in elementary school.
Remarkably, he became the youngest player in the league to grace the first team's field, holding onto this record for his initial three years of play.
What prompted Aguero to retire at a young age?
In December 2021, the Argentine star declared his retirement from football, a little over a month after doctors diagnosed the 33-year-old with a heart condition.
Earlier this year, the former Manchester City player inked a two-year contract with Barcelona. However, he only managed to make five appearances and scored one goal against Real Madrid.
His career came to an abrupt halt when he was rushed to the hospital with "chest pains" following a match against Alaves in October.
Sergio Aguero Net Worth and Sources of Income
During his playing career, Agüero ranked among the highest-paid footballers globally. In his final season with Manchester City, he reportedly earned a salary of £23 million.
Agüero's financial portfolio extended beyond football. He secured lucrative endorsement deals with major brands like Puma, Pepsi, and Nissan, each likely netting him millions of dollars annually.
The Argentine star also ventured into the world of streaming, amassing over 3.5 million followers on Twitch. His streams, featuring video game sessions, offer opportunities for substantial income through subscriptions, donations, and sponsorships.
Agüero diversified his wealth through strategic investments. He's involved in various businesses, including a chain of restaurants in Argentina and ownership of a football club in Spain.
Personal Life
Sergio Aguero married Giannina Maradona, the youngest daughter of Diego Maradona, in 2009, but they divorced in 2012.
He enjoys a close friendship with fellow soccer player Lionel Messi, often sharing a room with him when representing the national team.
Aguero uses his immensely popular official Instagram account to share photos of his lifestyle and soccer training with over 20 million fans.
Sergio Aguero Net Worth, Awards and Achievements
Sergio Agüero has won numerous awards and achievements throughout his career, including:
Individual awards:
FIFA Golden Boy (2007)
Premier League Player of the Month (7 times)
Premier League Player of the Year (2012)
PFA Players' Player of the Year (2014)
PFA Team of the Year (6 times)
ESM Team of the Year (3 times)
South American Footballer of the Year (2019)
Team awards:
Atlético Madrid: UEFA Europa League (2010), UEFA Super Cup (2010), Copa del Rey (2010)
Manchester City: Premier League (5 times), FA Cup (2019), League Cup (6 times), FA Community Shield (3 times)
Argentina: FIFA U-20 World Cup (2005), Olympic gold medal (2008), Copa América (2021)