Who Is The All Time Strongest Woman In The world 2023?
Rebecca 'Becca' Swanson
Becca Swanson earned her nickname "The Strongest Woman in the World" when she began participating in strongwomen competitions in 2002.
She currently holds the unique distinction of being the only woman to squat over 800 pounds.
Born on November 20, 1973, Becca is an American powerlifter, strongwoman, and former professional wrestler.
She shattered numerous powerlifting world records, setting new standards for the heaviest squat, bench press, deadlift, and total.
Her unparalleled achievements, which include undefeated strength world records, have earned her the title of "the strongest woman in the world to have ever lived."
Becca Swanson's Net worth
: ranges between $1 Million – $5 Million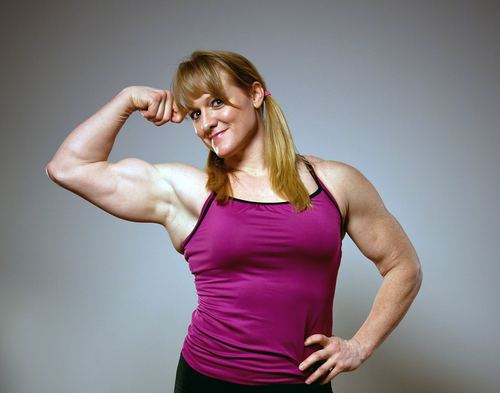 Becca Swanson Bio
Becca Swanson was born on 20 November 1973 in Papillion, Nebraska, United States, making her 49 years old.
She is married to Yasir Chaudhari since their union in 2012.
She stands at a height of 1.78 meters.
Her weight is 170 kg.
Becca Swanson has appeared in movies such as Hell Pusher, Haunting Pusher, and Hp15.
She holds American nationality.
Her educational background includes attending Papillion La Vista Senior High School.
Her occupations include being a powerlifter, strongwoman, professional wrestler, and bodybuilder
 Dominating Becca's World Records
In the 198+ Weight Class, Becca Swanson achieved an impressive 854.3 lb (387.5 kg) Squat.
In the same 198+ Weight Class, she conquered the Bench with a lift of 600.8 lb (272.5 kg).
Her Deadlift performance in the 198+ Weight Class stood at a remarkable 694.4 lb (315.0 kg).
Combining these feats, she reached a Total of 2,050 lb (930 kg) in the same competition, with her best lifts being 854.3 lb (387.5 kg) in Squat, 600.8 lb (272.5 kg) in Bench, and 683.4 lb (310.0 kg) in Deadlift, all achieved in a single meet.
In the 198 lb (90 kg) Weight Class, Becca Swanson displayed incredible strength with an 804 lb (365 kg) Squat.
Her Bench press in the same Weight Class reached 480 lb (220 kg).
She also excelled in the Deadlift, lifting an impressive 600 lb (270 kg).
When combining these lifts, her Total in the 198 lb (90 kg) Weight Class amounted to a staggering 1,884 lb (855 kg).
Career in Bodybuilding, Powerlifting, and Strongwoman Competitions
Becca Swanson embarked on her fitness journey in 1996, initially aiming to become a bodybuilder.
However, she transitioned into powerlifting due to a shift in the preferences of the bodybuilding community, where larger and more muscular women were no longer in demand after a few competitions.
She was informed that her size was deemed excessive for bodybuilding, which served as a catalyst for her transition to powerlifting.
Simultaneously, she found herself on the brink of breaking several powerlifting world records, further influencing her decision to focus on this sport.
Her achievements include a squat of 601.9 pounds (273.0 kg) with equipment, a bench press of 523.6 pounds (237.5 kg) using a bench shirt, and the remarkable feat of being the only woman to deadlift 621 pounds (282 kg) with equipment.
Notably, she became the first woman ever to join the prestigious 2000 pound club, achieving a total lift of over 2000 pounds in a single meet, a feat shared by only one other woman in history.
In addition to her powerlifting endeavors, Becca Swanson ventured into strongwoman competitions, commencing her participation in 2002.
She is also renowned for her remarkable strength, as evidenced by her ability to perform 35 kg dumbbell curls for 10 repetitions.
Becca's Professional wrestling Career
In the realm of professional wrestling, Becca Swanson was an active participant at Harley Race's World League Wrestling, situated in Eldon, Missouri.

Assuming the role of a villainous character, she secured the WLW Ladies Championship on October 3, 2009, at the WLW Tenth Anniversary Show by defeating Amy Hennig.

However, her championship reign was short-lived, as on March 12, 2010, Swanson relinquished the title in a triple threat match that also featured Hennig, with Lucy Mendez emerging as the new champion.

The following day, Swanson made another attempt to claim the WLW Women's Championship, but Hennig once again emerged victorious in a triple threat match that also involved Mendez.
Becca Swanson Physical statistics
Height:  5 feet 10 inches (178 cm).
Weight: 170 kg (370 lb).
Quads: 27 inches (69 cm) in circumference.
Calves: Swanson's calf muscles have a circumference of 17.5 inches (44 cm).
Shoulders: 54 inches (140 cm).
Biceps:19 inches (48 cm) in circumference.
This is what Becca knows herself to be;
"I  hold the title of the STRONGEST WOMAN EVER, a feat I achieved through 12 years of dedicated powerlifting competition.
My notable lifts include:
Squat: 854 lbs (387.5 kg)
Bench Press: 600 lbs (272.5 kg)
Deadlift: 683 lbs (310 kg)
Total (in one meet): 2050 lbs (930 kg)
During this incredible journey, I owned a gym in Omaha, NE named Big Iron Gym, and my story was captured in a documentary titled "STRONGEST EVER," although it's currently not available for purchase.
Despite my accomplishments, I felt unfulfilled in Omaha. Recognizing that we only have one life to live, I embarked on a new path.
My burning desire is to showcase my powerful physique, infused with beauty and femininity, to the world. My mission is clear: I aim to become a world-renowned female muscular icon.
Now, I reside in Los Angeles, California, where the energy is electrifying. I'm relentlessly pursuing my dreams, and nothing can deter me. In just three months, my visions are materializing.
Furthermore, I'm taking this opportunity to discover the woman within me, and I'm not holding back.
I've ventured into mixed martial arts (MMA) and joined the incredible team at Paragon in Agoura Hills, CA. It's challenging and exhilarating, and I'm preparing for my amateur match in February or March of 2010.
My goal? To turn pro within six months. I absolutely love it!"