Police have ganged up against private insurers that have been awarded their KES 9 billion medical cover tender.
According to sources from the NHIF, private companies CIC, Old Mutual, and Britam Insurence bribed their way to snatch the lucrative tender from NHIF.
Hello Nyakundi, good evening,
I would like to talk about this new police medical scheme its so biased and a scam at the same time junior officers wanaumia ile mbaya.
Hawa wakora bribed the procurement teams to make sure NHIF has lost the tender.
Marketing teams have chewed with big spoons and made sure NHIF had a bigger budget than the consortium. These 3 insurance cartels don't even have accreditation in most of the rural areas in Kenya. 
National Police Service (NPS) medical insurance was snatched from the National Hospital Insurance Fund (NHIF) and awarded the Sh 9 billion tender to CIC, Old Mutual, and Britam.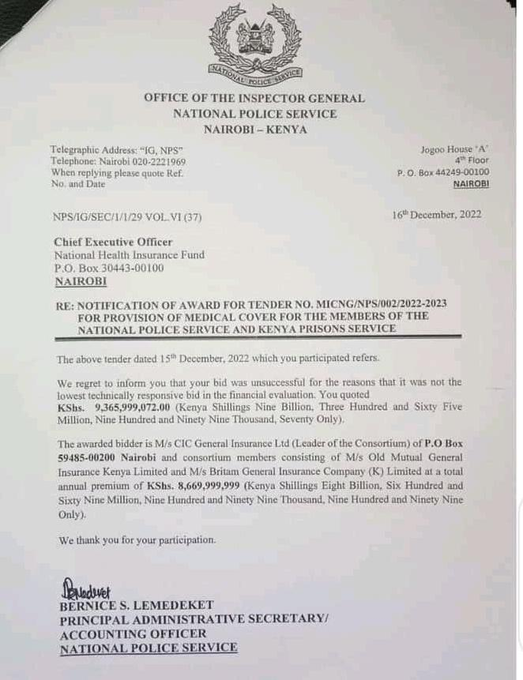 According to Dr Miguna Miguna, Public workers cannot be forced to take insurance cover by private companies owned by looters like the Kenyatta's when there is a PUBLIC SCHEME!
A source says NHIF lost because the political elite owns this big business and any smart Kenyan knows and understands that the reason why they spend millions in campaigns is to get power.
Mouth-watering premiums to private insurance Co by Police, Prison, and NIS quite irresistible kickbacks and commissions withstanding. 
The comprehensive insurance cover for The Kenya police/prison service that was being offered by NHIF "expired" on (31/12/2022).
NHIF boss Mr. Peter Kamunyo has since ordered that all regional and branch managers issue a communication to healthcare providers that they were no longer having a deal with the police.
In 2019, CIC Insurance CEO Tom Gitogo abruptly quit due to bad business. The struggling  CIC Group has always stolen from its agents. Also, another theft is that once CiC realizes you qualify for more commissions they terminate you from their systems and then deny you.
UAP on the other side has also been fleecing Kenyans. They take your premiums but when you get sick they are not there. In worst cases, they even force a change of doctors to cut costs.
Read more about Old Mutual Here: https://www.cnyakundi.com/uap-old-mutual-fires-sales-team-over-diddling/
Not sure why a GoK agency like Interior Ministry would deny Sh8.7 bn business to NHIF and give to private sector. Is because NHIF can't pay kickbacks?
Kenya is a 'man eat man society and has been emboldened more by the lack of honesty, runaway corruption, and lack of respect for authorities and institutions
The insurance Business has a 5 to 6 per cent penetration rate in Kenya and the way the CIC, Old Mutual and Britam insurance firms are treating clients; doesn't help to give them tenders.
A client of Britam Insurance Company wrote to cnyakundi.com complaining about the 'art of evasion', in the payment of insurance claims.
According to a memo from Kenya Police Service headquarters to all Regional Coordinators, Formation commanders, County Commanders and Police headquarters directorates, police officers are encountering difficulties accessing services at various medical facilities.
Police deep in Turkana just as any other junior NPS staffs in interior parts in Kenya will suffer getting healthcare because l doubt if clinic deeps in rural and ASAL areas accepts CIC, Old Mutual or Britam insurance.
Just wondering, did the State just denied its own parastatal business or the shareholders of the two private providers are at the top of our political ecosystem?
I will be serializing complaints from CIC, Old Mutual or Britam insurance and how they are offering rotten services to their clients.
Are you a victim? Speak up
Send an email: [email protected], WhatsApp +254 710 280 973 Facebook https://www.facebook.com/CisNyakundi?mibextid=ZbWKwL
---
Would you like to get published on this Popular Blog? You can now email Cyprian Nyakundi any breaking news, Exposes, story ideas, human interest articles or interesting videos on:
[email protected]
Videos and pictures can be sent to
+254 710 280 973
on
WhatsApp
, Signal and
Telegram.
---
Comments
comments